Play Pocket Tanks for PC and Mac for FREE!
Pocket Tanks, the classic 1-v-1 artillery game is back! This fast-paced, easy-to-play game will guarantee you and your friends hours and hours of fun!
In Pocket Tanks, arm your very own tank with various awesome weapons to fight against your opponent online. Explore the Weapon Shop, arm your tank, and start the fight! You score a point for every hit. With an assortment of weapons available in at your disposal, you can choose how you fight and make up your own strategy to guarantee your victory. Some weapons carry more punch than others, while some are more fit for stealth or other battle strategies. You can also try to hone your skills first, teach yourself the ins and outs of your weapon of choice, and formulate your very own tactics in Target Practice mode.
Download Pocket Tanks and start defeating your opponents in show-stopping artillery battles today!
From Blitwise Productions, the creators of DX-Ball, Scorched Tanks and other quality games, Pocket Tanks has gathered millions of downloads and over a decade of quality artillery gaming. This iconic game has been around since 2001, and has only gotten better since. With a loyal fanbase and community, many developments and upgrades have been added to guarantee the best gaming experience.
Designed with ease of use, fast gameplay, an interactive environment, and simple but fun mechanics, Pocket Tanks will get you and your friends hooked in no time. You can play against your family and friends wherever they are in a 1 vs. 1 battle via online play. Pocket Tanks is cross-platform, so it doesn't matter if you're using Windows, Mac or Android. You can still get into online battles with your fellow players from all around the world.
Whether you're an artillery game newbie or a seasoned player with experience under your belt, Pockets Tanks is for you!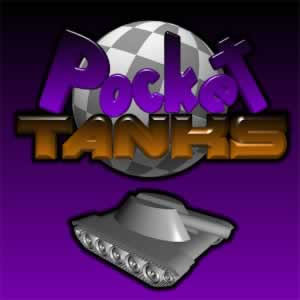 By
BlitWise Productions, LLC
| 4,043 downloads
Game Features
Simple, easy to learn controls - don't worry about complicated mechanics and get down to business right away!
Over 30 awesome weapons to choose from in the Weapon Shop! Choose from Firecrackers, Skippers, Cruisers, Dirt Movers, Napalm and more!
An intuitive Target Practice mode, where you can brush up on your artillery battle skills and test your choice weapons to their limits!
Interactive battlefield environment - use pedestals, tunnels or barkers as part of your strategy. Outsmart your opponent!
1 vs. 1 online cross-platform online battles. Battle your friends from anywhere around the world!
The Ultimate One-on-One Artillery Game!